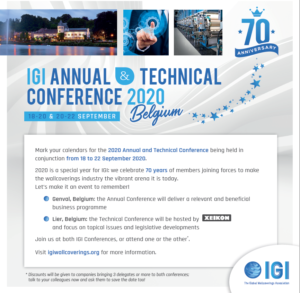 IGI is celebrating 70 years of members joining forces to make the wallcoverings industry the vibrant arena it is today!
IGI's Annual Conference will be held in conjunction with the Technical Conference in Belgium from 18-22 September:
Annual Conference: 18-20 September in Genval (south of Brussels)
Technical Conference hosted by Xeikon: 20-22 September in Lier (northeast of Brussels and near Antwerp)
Registration will open in April. Stay tuned for more details!